&nbsp
Sale!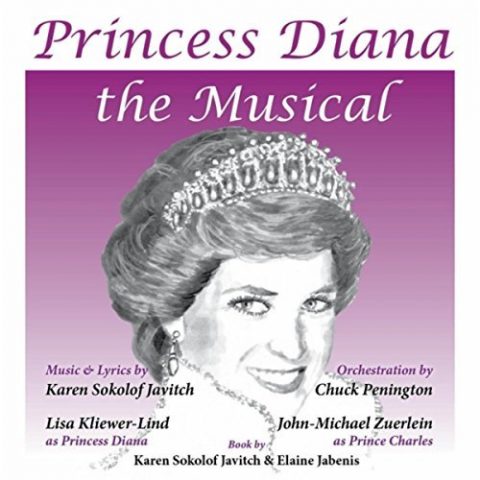 Princess Diana: The Musical Cast Recording CD

$

7.99 Per Ticket
Tickets Available For This Show!
About The Show
Composer: Karen Sokolof Javitch
PRINCESS DIANA, THE MUSICAL is the only CD of its kind in the world. At Diana's death, ardent admirer, songwriter and playwright Karen Sokolof Javitch expressed her grief by writing songs about the princess. She wrote the 33 songs about Princess Diana to describe her life with Prince Charles – their courtship, their troubled marriage and their divorce. The songs reflect Diana's transition from being an unknown 19-year old to becoming the most famous woman in the world.
Ms. Javitch read Andrew Mortion's book, DIANA: HER TRUE STORY, and teamed with award-winning author, Elaine Jabenis to write a script. This Princess Diana production, also entitled PRINCESS DIANA, THE MUSICAL, has been produced twice in Omaha, Nebraska, the authors' hometown, raising over $25,000 for two of Diana's favorite charities – AIDS and RED CROSS.
The thirty-four songs on the CD run the gamut in emotion and content. Not only do they include duets between Princess Diana and Prince Charles, but the songs also feature Queen Elizabeth, Prince Philip, the Queen Mum, Fergie and Prince William. There is humor, laughter, excitement, adoration, fun, jealousy, love and much more expressed in the songs.
The ballad that will bring tears to the eyes of all Princess Diana lovers is "There Was a Time." We all know that she loved Prince Charles but we have doubts that he ever loved her.
"We are still so saddened by the death of this wonderful woman who gave so much to the world," Ms. Javitch says. "Writing PRINCESS DIANA, THE MUSICAL is my way of trying to keep her memory alive."

"The Musical's songs are not only hummable but very entertaining in a true Broadway style. Their lyrics tell Diana's story with insight and compassion for the major parties involved in this intriguing saga."

~Susan Maxwell Skinner, former member of Diana's Press Corps & author of 3 books on the Princess, including, 'Diana, Memory of a Rose.'